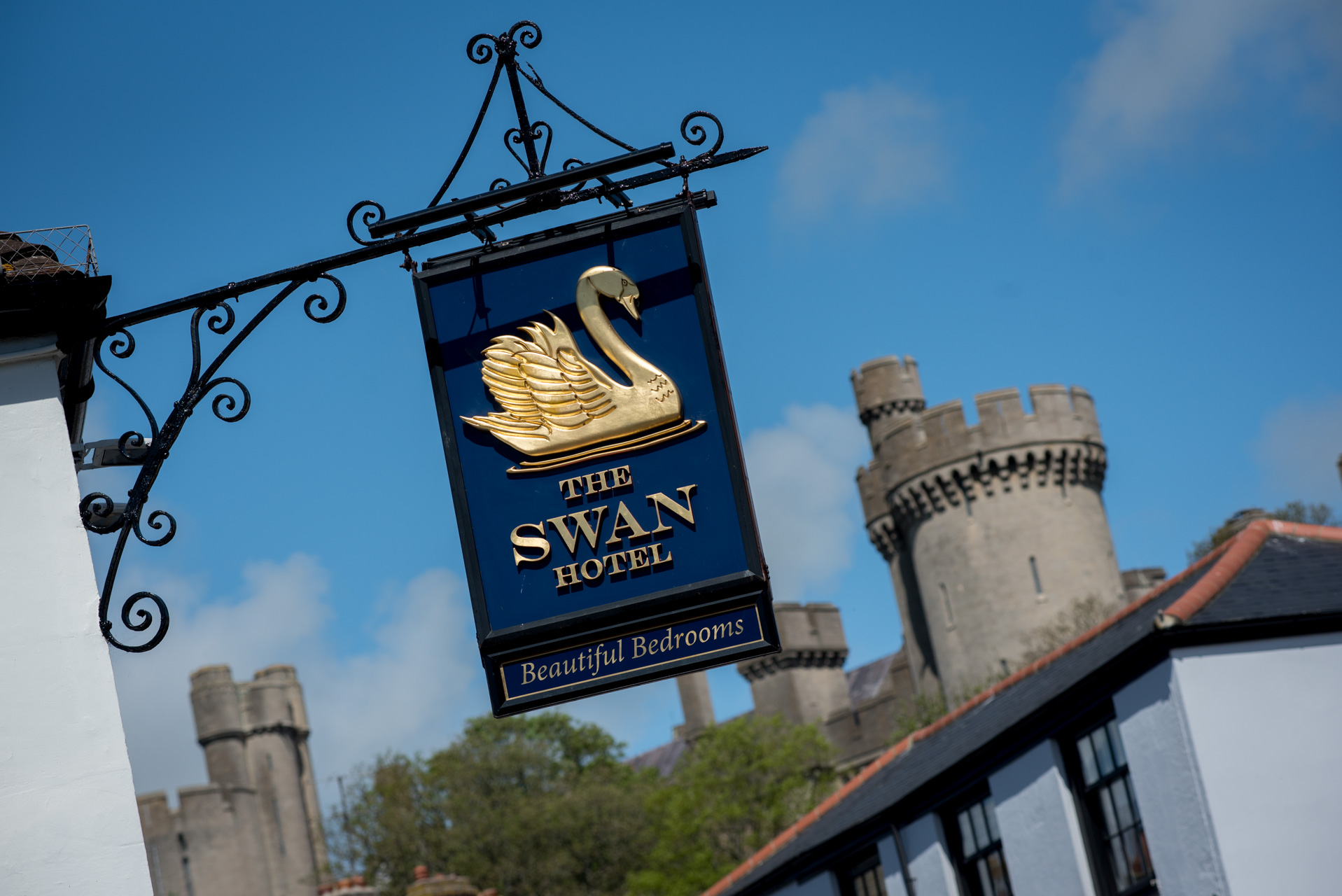 A brief history of the Hotel.

For your amusement and appreciation, we have included a little about the history of the hotel and the beautiful, enchanting town of Arundel.

The Swan dates back to 1759, when it was built facing the bustling Arundel Town Quay. Originally there was a courtyard at the rear with stabling for horses and coaches, otherwise this fine Georgian building looks much the same as it did at the end of the 18th century. The old inn sign from that time is displayed in the hotel's restaurant.

Before 1900 Arundel was a thriving seaport. It was originally registered as a port in 1071.By the mid-19th century the river Arun was linked by canals to London and Portsmouth.

Wharves along the Arun once bristled with the masts of ships and barges carrying coal, timber, chalk and salt. However, trade declined with the growth of Littlehampton harbour. Eventually, when a railway bridge was built across the river at Ford in 1938, tall ships could no longer reach the port.

Nevertheless, fresh local fish remains popular and is always to be found on the menu of The Swan Hotel. The Arun itself is famous for its mullet. Curiously, babies born in Arundel qualify to be called 'Mullets'. The name is carried with pride – a register of 'Mullets' is kept in the town library.

At one time, to satisfy its thirsty seafarers, shipwrights and stevedores, the small town of Arundel boasted two breweries and no less than 30 public houses. In those days beer was safer to drink than the so-called drinking water. Rural Sussex did not receive piped water until the late 19th century, and some parts of Arundel not until the mid-20th century.

The Swan Hotel was never an ordinary alehouse. Kimpton's Guide to Arundel of 1903 referred to The Swan as 'Providing good accommodation for travellers and cyclists'. The guide also praised its 'Wines and spirits of superior quality' and its catering for 'Beanfeasts and other parties'. Along with serving Fuller's award-winning cask ales, these are traditions that The Swan Hotel is proud to continue to this day.

With grateful acknowledgements to Rupert Brooks and Arundel Museum.

If it's a relaxing getaway in Arundel you're after, our staff can organise special pamper packages to make your stay that bit more luxurious.